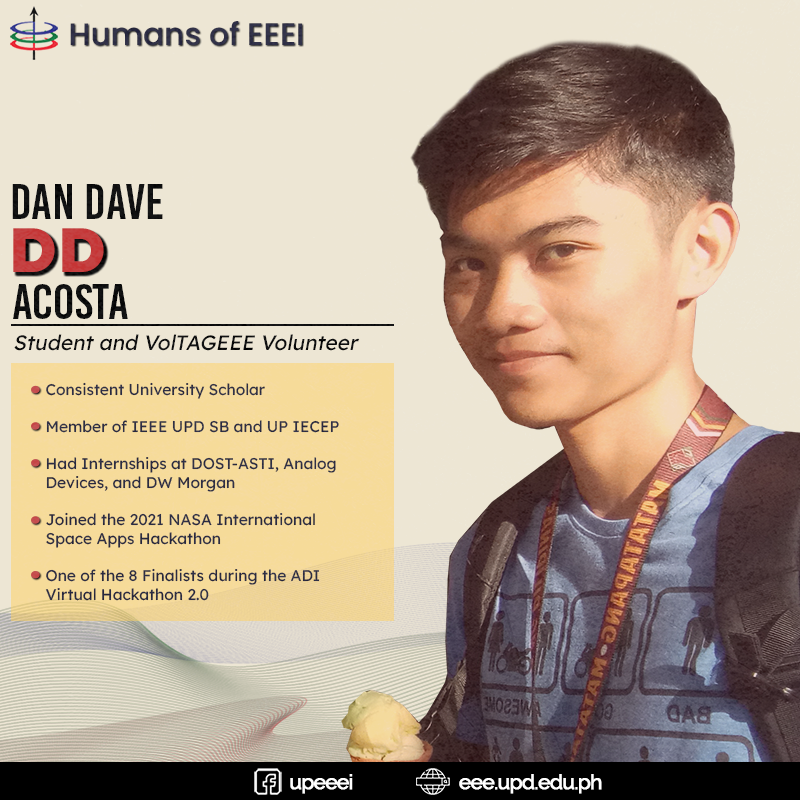 Dan Dave Acosta, also known as DD by his friends, is a BS Electronics Engineering student at EEEI. He is a consistent University Scholar (semestral GWA of 1.45 and above). He had internships at the Department of Science and Technology – Advanced Science and Technology Institute (DOST-ASTI), Analog Devices, and DW Morgan. Aside from studying, he also dedicates his time to VolTAGEEE, the official volunteer corps of UP EEEI. He also participated in the ADI Virtual Hackathon where he ended as one of the eight finalists, as well as the 2021 NASA International Space Apps Hackathon.
What are some of your advocacies that you may want to share to our EEEI Community?
"In our current society, citizens require good health to increase their productivity. As we battle the end of the pandemic, we must prioritize our mental and physical health. Only then can we make an impact in society as students and employees."
---
Why did you choose to be a part of UP EEEI?
"I always associate my 'high school hobbies' with ending up in UP EEEI. I was fascinated by electronics projects and computer assembly back then. So, I researched universities and institutions that are prominent in this industry. That led me to UP EEEI. I chose to be a part of this institution due to its facilities with several collections of instruments and equipment. Its research and instructional laboratories are too good to pass up."
What do you love about being part of the EEEI Community?
"Sure, staying in this community is hard due to the level of complexity of the courses. We will lose and gain things. But staying in the community is worth it because of the people that are ready to help and assist you during your lowest moments. These people come in the form of friends, faculty, and staff. Opportunities are also abundant in EEEI community! The scholarship opportunities are so common that different private orgs and companies are asking for scholarship applicants now and then."
---
What is your message to all the members of the EEEI community?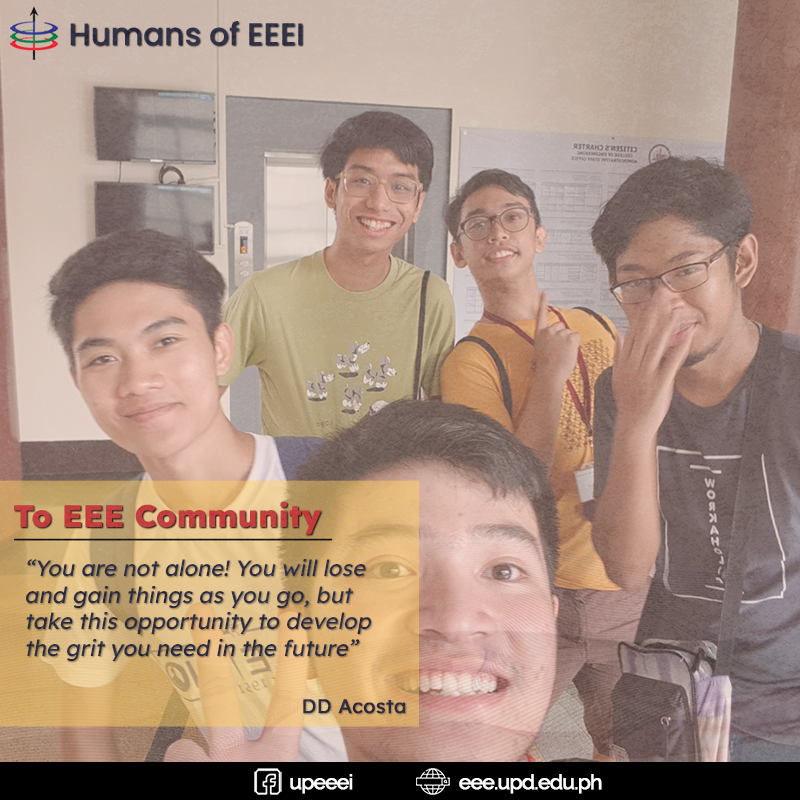 "Whenever you feel so heavy that you think you can't move on, just approach anyone in the EEEI community. Chances are, the person you're going to approach has that same problem. You are not alone! You will lose and gain things as you go, but take this opportunity to develop the grit you need in the future (no university can give you that). The EEEI Community has helped me during the years I have been staying here (pre-pandemic and pandemic). I would like to express my gratitude to the faculty and staff of EEEI who, despite all odds, find ways to ease loads of the students. Kudos to the gentle and thoughtful profs! You know yourselves. ;)"