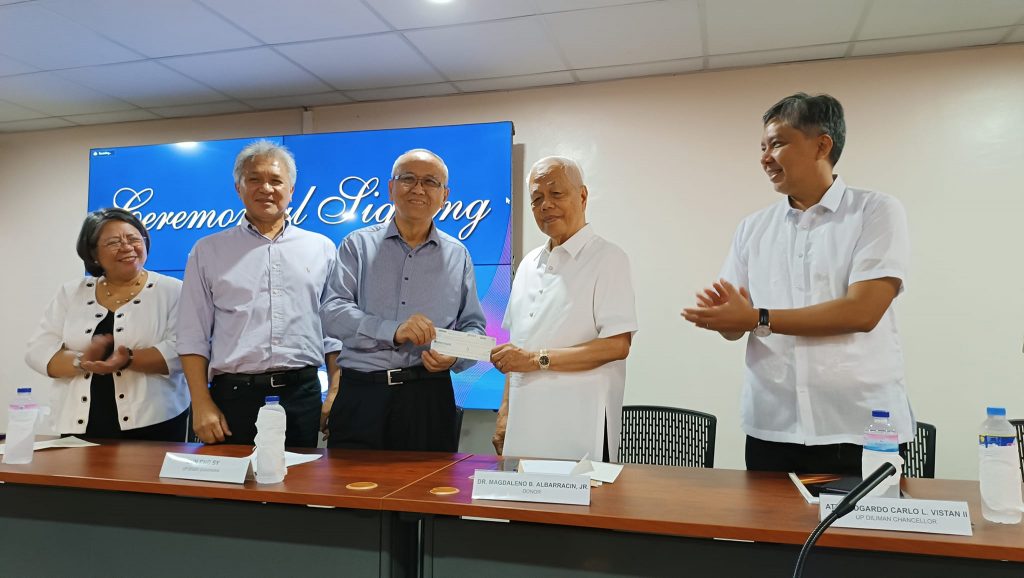 The Electrical and Electronics Engineering Institute held a Ceremonial Signing of the Memorandum of Agreement (MOA) among Dr. Magdaleno B. Albarracin Jr., UP Engineering Research and Development Foundation Inc. (UP ERFDI), and the University of the Philippines for the upgrading of EEEI's laboratory facilities and the development of a Smart I-Lab, 26 July 2023 at the EEE Meralco Innovation Hall.
Present during the signing are Dr. Lew Andrew Tria, EEEI Director, together with UP Diliman Chancellor Atty. Edgardo Carlo Vistan II, UPD College of Engineering Dean Dr. Maria Antonia Tanchuling, Department of Energy Undersecretary and UP ERDFI Adviser Dr. Rowena Cristina Guevara, UP ERDFI Chairman Mr. Sun Eng Sy, UP ERDFI Project Representative Mr. Rafael Nestor Mantaring, and most importantly the donor himself, Dr. Magdaleno B. Albarracin Jr., Vice Chairman of the PHINMA Corporation and PHINMA Inc.
Dr. Albarracin Jr. is an alumnus of the Institute through his Bachelor's degree in Electrical Engineering (EE '56). He then pursued graduate studies and got his Master of Science in Electrical Engineering from the University of Michigan. He also obtained his Master in Business Administration degree from the University of the Philippines and his Doctorate in Business Administration from Harvard University.
Aside from being the Vice Chairman of PHINMA Corporation and PHINMA Inc., he is also the Chairman of PHINMA Inc.'s Executive Committee. He was a former Alumni Regent of UP Diliman's Board of Regents as well as the Board of Trustees of UP ERDFI. In addition, he also served as the Dean of UP Virata School of Business.
This 50-million peso alumni donation aims to enhance the instruction and research capability of the Institute by upgrading three of its computing laboratories (Rooms 126, 428, and 429) into instructional laboratories with both computing facilities and electronics testing set-ups. This project will also result in developing Room 308 into a green, future-ready, and smart instructional laboratory (Smart I-Lab) powered by renewable energy and equipped with teleconferencing and collaborative learning setups, and embedded with sensing, and automation features for energy monitoring, and smart control.