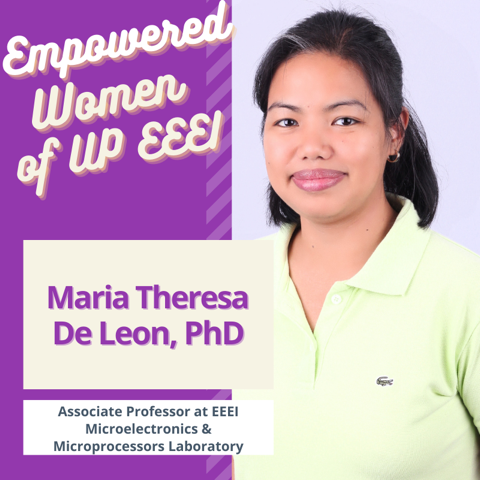 As part of the National Women's Month celebration, the EEE Institute recognizes outstanding women and their contributions electrical, electronics and computer engineering and to the institute through this series — Empowered Women of UP EEEI.
First on the list is Dr. Maria Theresa De Leon, an Associate Professor at EEEI Microelectronics and Microprocessors Laboratory.
Let's take a look at why Dr. De Leon is one of our #EmpoweredWomenofUPEEEI:
How do women make an impact in your chosen career and industry?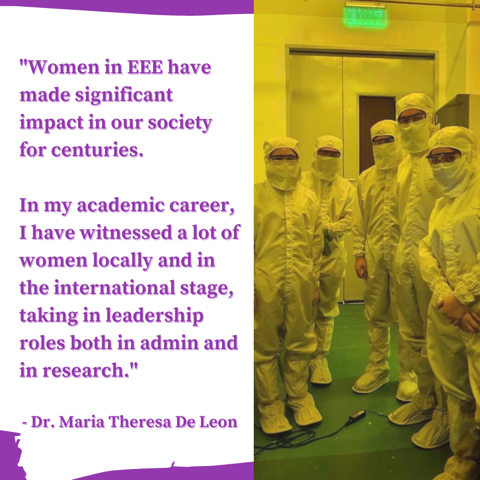 Women in EEE have made significant impact in our society for centuries. Ada Lovelace wrote the first complete computer program published in 1843. Edith Clarke, the first woman to earn zan MSEE degree from MIT in 1919, developed the "Clarke calculator" that helped with the complicated calculations needed to determine current, voltage and impedance in power transmission lines. Actress Hedy Lamarr helped develop a radio guidance system using frequency-hopping spread spectrum technology intended for allied torpedoes during World War II. In my academic career, I have witnessed a lot of women locally and in the international stage, taking in leadership roles both in admin and in research. A lot of them are my role models.
Your message to all the women of EEEI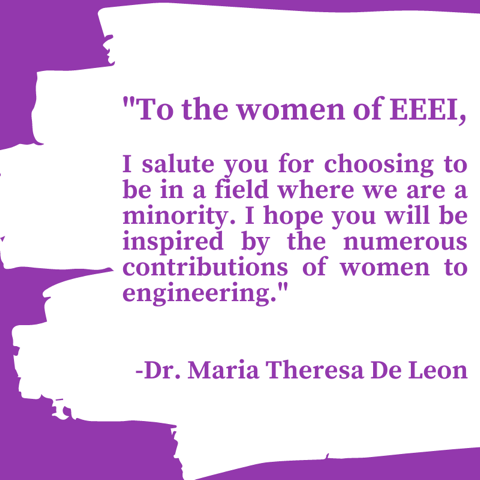 To the women of EEEI, I salute you for choosing to be in a field where we are a minority. I hope you will be inspired by the numerous contributions of women to engineering. If you are a student, study well so that you will be prepared for your project/thesis/dissertation and your life after the university. If you are an admin or project staff, continue to help us serve our students better and find ways to improve our processes. If you are a researcher, be proud of your contributions to the body of knowledge, no matter how small you might think it is. If you are in the faculty, continue to inspire the next generation of engineers who may go on to produce something brilliant for our country, regardless of their gender.
Accomplishments and advocacies that you may want to share to our EEEI Community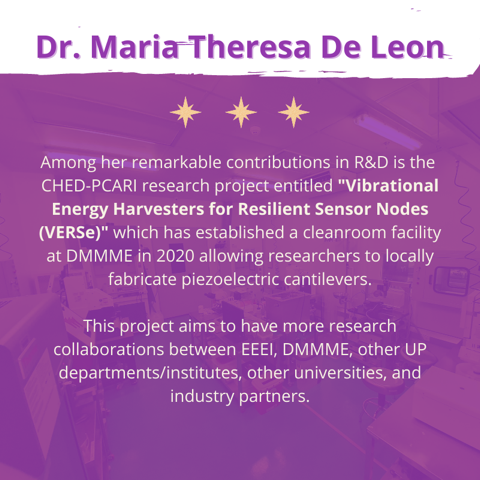 Our CHED-PCARI research project entitled "Vibrational Energy Harvesters for Resilient Sensor Nodes (VERSe)" has established a cleanroom facility at DMMME which should allow us to locally fabricate piezoelectric cantilevers. The construction of the cleanroom completed last Dec 2020 and we are now assessing and recalibrating several fabrication equipment before we start characterizing different fabrication steps. We hope that more researchers would make use of the facility and that it would pave the way for more research collaborations between EEEI, DMMME, other UP departments/institutes, other universities, and industry partners.

#EmpoweredWomenofUPEEEI #WomenMakeChange  #WomenInSTEM