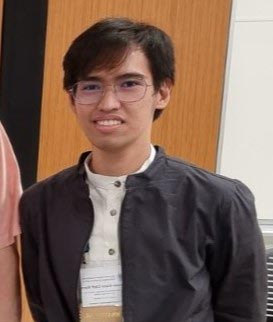 Position:
Lecturer
Laboratory Affiliation:
Wireless Communications Engineering Laboratory
Room:
404; Research and Development Division, DOST – Advanced Science and Technology Institute (DOST-ASTI)
Telephone Number: 
+63 906 329 8342
Email:
ramon.vann.cleff.raro@eee.upd.edu.ph
Research Interests:
5G and beyond, Community Controlled Networks, Open RAN, Microwave Engineering, Radiowave Propagation, LoRa, Vehicle-to-Everything (V2X) Communications
Educational Background:
BS ECE,
University of the Philippines,
2019
Research Projects/Activities:
Analog domain Self-Interference Cancellation for In-Band Full-Duplex Radios, RuralSync, Resilient Education Information Infrastructure for the New Normal (REIINN), Vehicle-to-Everything Initiatives for Road Safety (VIROS)
ORCID
Recent Publication/s:
Inojosa, Raynell & Martinez, Philip & Raro, Ramon & Pineda, Riza & Villamater, Jerome Dylan & Sumalinog, Kenneth Rey & Banzuela, Maria & Hiponia, Kerry & Manato, Kieth & Banzon, Peter. (2022). Towards the Development and Deployment of Community LTE Networks in Rural Areas. 1-6. 10.1109/ICONAT53423.2022.9725850.
Martinez, Philip & Iii, Julian & Quitayen, Jean & Raro, Ramon. (2022). RuralSync: Providing Digital Content to Remote Communities in the Philippines through Opportunistic Spectrum Access. 10.1109/GHTC55712.2022.9911043.
Hilario, Calvin & Barela, Mary & De Guzman, Mar Francis & Loquias, Rizza & Raro, Ramon & Quitayen, Jean & Marciano, Joel. (2020). LokaLTE: 600 MHz Community LTE Networks for Rural Areas in the Philippines. 1-8. 10.1109/GHTC46280.2020.9342849.
Raro, Ramon & Mendoza, Genedyn Gems & De Guzman, Mar Francis. (2019). Analog Domain Cancellation in Hybrid Self-Interference Cancellers for In-Band Full-Duplex Radios. 646-648. 10.1109/APMC46564.2019.9038235.